---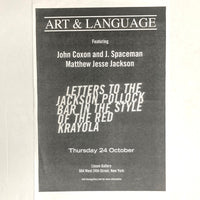 Art & Language - Letters to the Jackson Pollock Bar in the Style of the Red Krayola exhibition poster
Art & Language.
Letters to the Jackson Pollock Bar in the Style of the Red Krayola exhibition poster.


New York: Lisson Gallery, 2019.
Poster.
12" x 18".


Very good.

Unobtrusive horizontal center crease
as well as various handling creases.
2019 poster for a performance by Art & Language featuring
J. Spaceman (of Spacemen 3 and Spiritualized) and John Coxon (from Spring Heel Jack and the Treader label) at the Lisson Gallery in New York City. 
"Lisson Gallery New York is pleased to present a night of performance, discussion and music inspired by the pioneering work of Art & Language and their 40-year collaboration with The Red Krayola, a punk band founded in Houston, Texas, by Mayo Thompson and Frederick Barthelme in 1966. The evening will also feature a discussion with Art & Language, hosted by art historian Matthew Jesse Jackson, as well as a newly commissioned homage to some of The Red Krayola's earliest live shows, composed by musicians  J. Spaceman (of Spacemen 3 and Spiritualized) and John Coxon (from Spring Heel Jack and the Treader label).
After the conceptual art group known as Art & Language was formed in 1968 at Coventry College of Art in the UK, it quickly spread to New York where it centered on two important journals, Art-Language (1969-85) and then later The Fox (1975-76), by which time some 20 artists were connected in various ways with the name. It was around this time that an album entitled Corrected Slogans came out, marking the first collaboration between Art & Language in the UK and The Red Krayola, in which snippets and slogans from conceptual art theory and philosophical tracts were sung or chanted over music composed in response by Thompson's band. This was a melding of socialist activism, linguistic experimentation and riotous rock and roll, but, rather than representing a simple division of labor between lyrics and backing tracks, these co-productions have continued and developed over subsequent years, albums and gigs, forming a reciprocal, cross-disciplinary body of work. 
Continuing the radical spirit of collective exchange that informed those early songs, a new improvised composition by Jason Pierce aka J. Spaceman and John Coxon, entitled Tribute to The Red Crayola Live 1967, re-lives the psychedelic, freeform origins of that relationship. Aside from being an inspiration for Coxon's own improvisatory, guitar-based practice and an avowed influence on Pierce's first band Spacemen 3, the chaotic, polyrhythmic first albums of Red Crayola (as they were then known) provided the foundation for the intervention and juxtaposition of Art & Language's later vocal instrumentation.
Art & Language themselves (now formed by two founding members representing the groupings on both sides of the Atlantic, Michael Baldwin and Mel Ramsden) will begin the evening at Lisson Gallery with a revised performance of Letters to The Jackson Pollock Bar in the Style of The Red Krayola (2012-13). In this, the artists address a number of short essays to another group they have long been associated with, The Jackson Pollock Bar – professional actors who have lip-synched many Art & Language texts for an on-going series of Theory Installations. The live readings will be accompanied by a video of The Red Krayola playing behind, in a sort of feedback loop of call and response, part discursive lecture, part extemporaneous concert. A new portfolio of silkscreen poster works reworking a similar series produced in 1977, entitled 10 Posters(2018) will also provide a backdrop to proceedings, many of which reference recent Art & Language works such as the Guernica Fragments,while one is titled The Red Krayola and another warns that you might be entering a Bad Place.
This opening performance is followed by a conversation instigated by Matthew Jesse Jackson, on the group's beginnings in the UK and the US, as well as how the notions of collaboration, performance and music combine within their varied, shifting practice and might approach something like a gesamtkunstwerk. As Michael Baldwin points out in a recent Lisson ON AIR podcast: "I had a conversation with Mayo about this not that long ago, about how I felt [our collaboration] merited attention because it not only accounts for our passage through the '70s but also recognizes how we work essayistically and re-descriptively, or at least it creates the circumstances in which that begins to make sense. It also meant that we had to abandon our puritanism in relation to our status as among those who began conceptual art."