---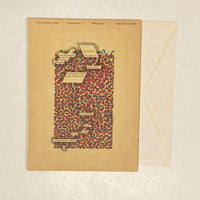 Phillips, Tom - Edition Hansjörg Mayer 1977 Catalogue / Verlagsverzeichnis
Tom Phillips. Edition Hansjörg Mayer.
1977 Catalogue / Verlagsverzeichnis
with 4 page Dieter Roth's Verlag
1977 Catalogue / Verlagsverzeichnis
and a sealed envelope likely containing an
order form (if the visible graphic is any indication)
laid in.

Stuttgart/London: Edition Hansjörg Mayer, 1977.
Staple-bound softcover.
64 pages. 6 12/16 x 9". 
Many black & white illustrations. 
Edition of 1500.
The cover is an original 4 color offset print by 
Tom Phillips.
Very Good. Minor wear and soiling to covers.
Staples rusty, but secure. Inside clean and unmarked.
Dieter Roth Verlag 1977 insert near fine.
Crisp clean sealed envelope likely containing a
Hansjorg Mayer order form, but for s
light wrinkling,
faint toning to left side and visible glue to back. 

An uncommon publisher's catalogue offering books by
Dieter Roth, Emmett Williams, Barbara Rose, Dorothy Iannone,
Jan Voss, Claes Oldenburg, Richard Hamilton, Tom Phillips, Arnulf Rainer, etc.
It also presents periodicals, posters, records, videos, and
Mayer's previous catalogues.