---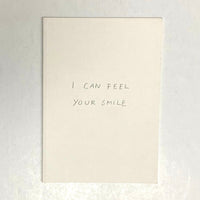 Emin, Tracey - I Can Feel Your Smile
Tracy Emin. 
I Can Feel Your Smile.

Lehmann Maupin, 2005. 
Softcover. 
20 pages. 


Near fine, but for slight corner wear.

Lehmann Maupin is pleased to present "I Can Feel Your Smile," an exhibition of new work by Tracey Emin. Well-known for her confessional art, Emin reveals intimate details from her life to engage the viewer with her expressions of universal emotions. This will be Emin's third exhibition in New York with Lehmann Maupin and will include film, mixed media sculpture, embroidery, painting and drawing among other media.

Tracey Emin lives and works in London. She has exhibited extensively worldwide. Emin was short-listed for the Turner Prize in 1999 and had a retrospective at the Stedelijk Museum in Amsterdam in 2002. The Tate Britain recently opened a room devoted entirely to Emin's work in their collection and her work may also be seen in the Centre Georges Pompidou in Paris, at the Walker Art Center in Minneapolis, the Hamburger Kunsthalle in Hamburg, and the Museum of Contemporary Art in San Diego.