---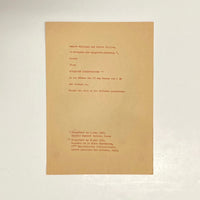 Filliou, Robert / Williams, Emmett - ROSAROTEN OHRENPFROPPEN performance announcment
Emmett Williams & Robert Filliou.
ROSAROTEN OHRENPFROPPEN.

Paris: Self-Published, 1963. 
Single sheet,
silk-screened. 

Near fine, 
but for quite faint creasing. 
Well preserved scarce Fluxus relic. 
Fondazione Bonotto describes this sheet as a performance announcement
for "Galerie Raymond Cordier, Paris
5 June 1963
and Workshop de la Libre Expression,
Centre Americain des Artistes, Paris
30 May 196"
however, I think this is actually an announcement for the 1964 performance 
that took place as part of "Actions, Agit-Prop, De-Collage, Happenings, Events, l'Autrisme, Art Totale, Re-Fluxus" in Aachen, Technische Hochschule.

The list of performances on Williams' website
(http://www.emmett-williams.com/biography/performances.html) 
lists ROSAROTEN OHRENPFROPPEN as performed at the Technische Hochschule,
not at Galerie Raymond Cordier or Workshop de la Libre Expression.

According to Google Translate:

"Emmet Williams and Robert Filliou, Co-Inventors of the Spaghetti-Sandwich +,
offer
your
PINK EARPLUGS ++
in the rooms of the TH for the price of 1 DM
for sale.
Contact the inventors personally!"