---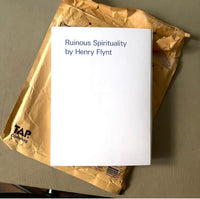 Flynt, Henry - Ruinous Spirituality
Henry Flynt. 
Christian Xatrec (Editor).
Ruinous Spirituality. 

Lisboa: João Simões, 2022. 
Softcover. 
275 pages.
New.

Ruinous Spirituality can be seen as the sequel to my recent Three Essays on Spirituality and Art. The abstract for Three Essays on Spirituality and Art said that ruinous spirituality needs to be studied as carefully as admirable spirituality: it discloses personness as much as admirable spirituality does. Ruinous Spirituality is a lengthy and aggressive contribution to this study. 
It goes without saying that myths about supernatural sources of evil, and myths about impiety, are rejected. Indeed, they are ignored: except when they comprise part of the object of study. There have been self-avowed Satanist enterprises for centuries. (And Satanic has a vivid metaphorical use in English. As shorthand for eerily malicious.) As for religion, it has to be appraised as a ruinously spiritual institution (more carefully, as an amalgam). 
The study wants to go beyond "decrying the bad." It wants to go beyond listing public manifestations which exhibit ruinous spirituality (e.g. cultural works). What needs to be answered is how ruinous spirituality is assembled in individual interiority at all. It needs a "reality-picture" beyond today's conventional wisdom: that would be personalysis.  What constituents must personness have to give rise to ruinous spirituality?
Five cases are found of spiritually ruinous interiority. (The cases outline a principal axis). The SUFFERER, the PERFORMER, the WRECKER, the SEDUCER, the PARTICIPANT.  The SUFFERER is a victim of themself. Three cases are agents acting on targets: their success is the ruin of the target. The PARTICIPANT is a SEDUCER who also participates in the revels.
In a postscript, the book finds another axis, with admirable and ruinous as its poles. It takes up amalgams, mixtures in the middle of this axis. Indeed, amalgams comprise much of what faces us. Not because admirable and ruinous are vague. Quite the contrary. The appropriate metaphor would be a clothed person. Clothes and humans go together even though they are distinct.
—Henry Flynt, NYC, Feb. 2022