---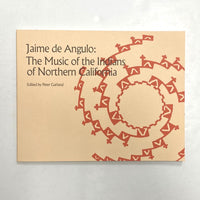 Garland, Peter (Editor) - Jaime de Angulo: The Music of the Indians of Norther California
Jaime de Angulo: The Music of the Indians of Norther California.

Soundings Press, 1988.
96 pages. 


Near fine, 
but for light corner wear. 

Cover by Michael Motley.


Introductions by Lou Harrison and Sidney Cowell.

"
The core of this artistic (and perhaps slightly artful) publisher's project is a translation of "La Musique des Indiens de la Califonie du Nord," a study by Jaime de Angulo and M. Beclard d'Harcourt. The French original was published in 1931 in the Journal de la Societe des Americanistes (new series 23:189-228, Paris).
In The Music of the Indians of Northern California (1988), the 1931 study takes up about fifteen pages. Along with Peter Garland's translation of the main body of textual material, these fifteen pages include five-and-a-half pages featuring twenty-eight songs in standard musical transcription.
Somewhat peripheral collectanea comprise the remaining 80 or so pages. While these miscellaneous documents and commentaries are relevant to the stated topic and of obvious importance, one suspects that most readers will search for the book's raison d'etre within the slender core article that lends the book its name. Fortunately, these fifteen pages are of considerable value.
In a field as fallow as California ethnomusicology, about all required of a document to be valuable is that it be valid. Yet where such a paucity of canons exists on the surface of a root data we know to be rich and complex, how is validity to be determined?
Angulo was not a trained ethnomusicologist, but demanding such of him is tantamount to scrapping any decision to read within the discipline as it currently stands - which is what most people do.
So let us approach this act with courage. Jaime de Angulo y Mayo was far from ignorant, obscure, or unfocused. The son of well-off Spanish expatriates, he was born in Paris in 1887, and raised in France. An intense and questioning child with some Jesuit schooling, he began exploring North and Central America for a home and career in 1905. In 1912, Angulo graduated from Johns Hopkins Medical School in Baltimore, attaining U.S. citizenship that same year. He moved to Califonia and, until his death in 1950, Angulo's home bases were the Bay and Big Sur areas. After work in genetic research, cattle ranching, and the Army Medical Corps, Angulo drifted into anthropology under the aegis of Alfred Kroeber. Starting around 1922, Angulo published dozens of articles and translations in the United States and abroad, specializing in native Californian linguistics and myths, but managing as well to translate Lorca and collaborate on a Hangover Cookbook. Among the international literati, Angulo was known as both an accomplished hobnobber and an eccentric recluse.
Knowing that Angulo was capable of serious field work, and realizing that any musicology among the tribes of northern California in the 1920s would verge on the seminal, what have we in the book under consideration?
Soundings Press seems to publish more in the subject areas of music than ethnography, and does not fear an avant garde stall in its stable. The format of its Angulo work is imaginative, at times unusually personal and discursive - refreshingly so. Introductions by Lou Harrison and Sidney Cowell strike an initial tone of openness toward subjectivity that pervades the rest of the book without dominating or mar-ring it.
The book's main body is then divided into four parts: (1) the 1931 study by Angulo and Beclard d'Harcouri; (2) an index compiled by Garland listing eighty-seven audiotapes by Angulo, as recorded on the Pacifica Radio programs, Old Time Stories; (3) twenty-six pages from Pit River Songz (sic, showing 25 songs collected from the Pit River Indians arranged in a graphic notation system; and (4) Song of Los Pesares, comprised of twenty short songs of Angulo's own composition in the same graphic notation as Part Three, plus two pages of music written in regular staff ascribed to Henry Cowell. All four parts are individually prefaced by Garland. And there's a foreword to the 1931 study by M. Beclard d'Harcourt! It's hard to avoid the feeling of being caught up in sort of intellectual food chain, but it's for a good cause. Read on!
In the article forming Part One, after a pedestrian but useful gloss on instruments, one begins to encounter some superb ethnomusicological writing. The points of style that distinguish each of the native groups covered are given with concise clarity, with the Achumawi addressed particularly well. Page 22 describes the experience of singing on a gambling team in an amazingly vivid manner.
The twenty-eight songs that complete Part One are written in single voice transcription. Rhythms, melodies, scales, and meters vary noticeably from song to song. All are quite good musically. Most include words or some specific vocalese.
The graph notation system used in Parts Three and Four is straightforward, with pitch shown vertically and duration extending on the horizontal plane. The full code is easily cracked by comparing page 50 with the staff on page 28."