---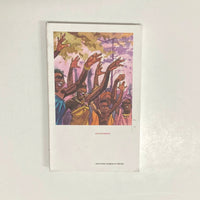 Golden, Thelma - Africa Comics
Africa Comics.
New York: The Studio Museum in Harlem, 2006. 
Softcover. 
271 pages. 
Very Good. 
Minor unobtrusive soiling and edge wear to covers. 
Published to accompany 
Africa Comics
, 
November 15, 2006 
— 
March 18, 2007.


A new generation of African artists is expressing itself through a medium most Americans associate with superheroes and funny pages. Using comics, this talented group depicts the rage,
desperation, hope, and humor of daily life in Africa. In partnership with Africa e Mediterraneo, a non-profit organization based in Bologna, Italy, The Studio Museum in Harlem is thrilled to present
Africa Comics
, the firstever exhibition in the United States dedicated exclusively to comic art from across the continent. The work, which addresses issues as wide-ranging as corruption, human rights, immigration, and the plight of women, provides an unprecedented glimpse into modern Africa.
As a project, Africa Comics was developed by Africa e Mediterraneo in 2001. The organization had just completed a series of projects and publications centering on African contemporary art as a way of establishing cross-cultural communication between Italy and Africa. Comic art presented itself as an ideal medium by which to address the wide range of social and political issues facing Africa—including refugees, public health, political conflicts, poverty, oppression, tribal traditions, and religion—from the point of view of its citizens. Africa e Mediterraneo then held a series of competitions and exhibitions that would include the work of prominent African comics artists (many of whom live in Europe), including T.T. Fons of Senegal and Gado of Tanzania, as well as unknown artists who brought new perspectives, ideas, and artistic styles to the field.
Africa Comics includes 32 artists or 2-person artists' teams from all over the continent of Africa, including Angola, Benin, Central African Republic, Cameroon, Democratic Republic of Congo, Equatorial Guinea, Eritrea, Gabon, Ivory Coast, Kenya, Madagascar, Mali, Mozambique, Nigeria, Republic of Congo, Rwanda, Senegal, South Africa, Tanzania, and Togo.
The exhibition will be accompanied by a full-color catalogue of approximately 200 pages. It will be fully illustrated with reproductions of all work included in the exhibition and English translations. This catalogue will be the first major publication on the subject in English, and will stand as an authoritative resource.
There will be a wide range of essays examining the comics from multiple perspectives. These include three essays from Africa e Mediterraneo: a curatorial statement by Mary Angela Schroth; an essay entitled New Comics from Africa by anthropologist Massimo Repetti, which examines the role of African comics within the context of the continent's emerging democracies; and a third essay by Senior Editor, Sandra Federici. The Museum has commissioned a foreword from Okwui Enwezor, Dean of Academic Affairs at San Francisco Art Institute and Adjunct Curator at the International Center of Photography, New York, and additional essays from Calvin Reid and Valerie Cassel Oliver. Reid is senior News editor at Publishers Weekly and founder of both the magazine's regular comic column and PW Comics Week, an email newsletter on comics and graphic novel publishing. Cassel Oliver was curator of Splat Boom Pow!, a major exhibition of comic art at the Contemporary Arts Museum, Houston, in 2003. Her essay will provide an analysis of African comics as art. The catalogue will also include a complete checklist of work and artist's biographies.
Africa Comics is co-curated by Sandra Federici, Thelma Golden, Andrea Marchesini Reggiani, and Mary Angela Schroth.