---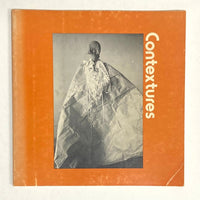 Goode-Bryant Linda & Philips, Marcy S. (Editors) - Contextures
Linda Goode Bryant & Marcy S. Philips. 
Contextures. 
New York:
Just Above Midtown, Inc.
: 1978.
Softcover. 
103 pages. 
58 illustrations + 16 color plates.

Very good. 
Minor rubbing to covers with light fading at spine. 
Crease front bottom right. 
Binding tight. 

Scarce important 1978 study of the role of African-American artists
in the "
context
" of "American abstract art since the 1940s". Bibliography of books, 
catalogues, and newspaper/magazine articles and index present. 

Features 
David Hammons, Adrian Piper, Senga Nengudi, Howarendena Pindell, Suzanne Jackson, Betye Saar, Sam Gilliam, Frank Bowling, James Little, Al Loving, William T. Williams, Sharon Sutton, Fred Eversley, Mel Edwards, Randy Williams, Noah Jemison, Banerjee, Donna Byars, Houston Conwill, Wendy Ehlers, Gini Hamilton, Suzie Fitzsimmons, Raymond Saunders, Manual Hughes, and
John Dowell,

One of the first serious studies of African-American abstract art.


"The purpose of this book is two-fold: to provide a stylistic discussion on American abstract art since the mid 1940s, placing Afro-American artists working in this tradition within its context; and to discuss, for the first time, a style that has been developing since the early 1970s which we have termed Contextures. Much of the information was obtained through interviews with the artists.
Our objective in both is to provide the basis on which further research and documentation can occur. Hopefully, a more equitable climate will result in which the public is afforded greater exposure to new, as well as often neglected, artists and their developments."
Linda Goode Bryant & Marcy S. Philips, February 1978.