---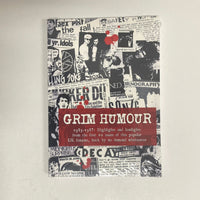 Grim Humour: Highlights & Lowlights 1983-1987
Grim Humour: 
Highlights & Lowlights 1983-1987.

Fouth Dimension, 2020.
Softcover.
300 pages.

New, sealed. 

Grim Humour ran between 1983 and 1993 and proved itself one of the most popular UK fanzines throughout this time due to its documenting many groups, large and small, who initially arrived from the punk/post-punk world and its cousins in industrial or electronic music, whilst coupling this to an interest in horror films, underground cinema, literature, graphic novel/comics and more esoteric areas. Although the passions for matters beyond music grew as the 'zine itself grew, the early editions captured here in what is to be the first of two book volumes reflect the work of several teenage friends so devoted to the music they enjoyed they felt compelled to delve further into it. Naive, impassioned, and underpinned by a modicum of sarcasm that got cranked higher in later editions, Grim Humour perfectly balanced deference with irreverence when it came to music. Throughout the approximately 300 pages collected here, original pages are reprinted alongside re-edited interviews, reviews and other such features from the first ten editions of the 'zine, published between 1983 and 1987. Also featuring new text exclusive to the book by some of the groups, as well as a number of essays by those either involved with the 'zine or who avidly read it, this book serves as a (perhaps cracked) snapshot of a time when independent music didn't necessarily mean "indie". Comprising interviews with Killing Joke, Abbo (UK Decay), And Also The Trees, Crass, Virgin Prunes, Death In June, Portion Control, Nick Cave, Sonic Youth, Coil, The Leather Nun, The Damned, The Fall, Fools Dance(featuring Simon Gallup of The Cure), Big Black, Head Of David, Alternative TV, and many others, this book helps illustrate just how far punk and its own darkened tendrils actually reached in an age when fanzines and their concomitant cousins in mail art, cassette labels and suchlike helped fill in the gaps the music weeklies simply couldn't. This will be of interest to all who grew up through this era and still have a place for it in their hearts, besides those with a lot of interest in any of the groups featured.