---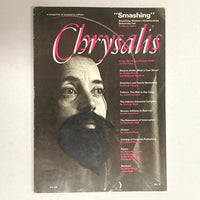 Grimstad, Kirsten (Editor) - Chrysalis No. 8
Kirsten Grimstad, etc (Editor).
Chrysalis No. 8. 

Los Angeles: Chrysalis, A Magazine of Women's Culture, 1977.
Softcover. 
126 pages. 

Very good.
Bump to spine with closed tear. 
Minor edgewear, creasing.
Shipping address label to back cover. 
Inside clean and unmarked. 
Smashing: Women's Relationships Before the Fall by Nancy Sahli.
Cover Girl / Artist Eleanor Anton as the King. 
Eleanor Antin: What's Your Story? by Arlene Raven and Deborah Marrow.
Feminism and Family Revivalism by Sandi Cooper.
Fathers: The Men in Our Lives by Judith Arcana. 
The Literary-Industrial Complex by Celeste West. 
Women Athletes in Reel Life by Michele Fort.
The Resonance of Interruption by Michelle Cliff. 
Fiction by
Joanna Russ
.
Catalog of Feminist Publishing by Linda Palumbo.
Poetry by Mary McAnally, F.S. Pearlson, Holly Prado, Elizabeth Zelvin. 
Reviews by Alice Bloch, Joan Kelly.
"While Heresies remains the better-known publication, it is Chrysalis that engaged a broader public, covering progressive issues that affected the women's community at large without taking an insular view of art world-only politics, or the thematic issues for which Heresies became widely known" (Sorkin). Chrysalis grew from Grimstad and Rennie's work for The New Woman's Survival Catalog, a resource book for women in the style of the Whole Earth Catalog. A list of the editors and contributors to Chrysalis is a who's who of feminist writers, critics, and thinkers. Audre Lorde was the poetry editor, and regular contributors included the activist and poet Adrienne Rich, philosopher and theologian Mary Daly, feminist artist Judy Chicago, sci-fi author Joanna Russ, poet Marilyn Hacker, literary critic Elaine Showalter, art critic Lucy Lippard, and many more. The layout was designed by the iconic feminist graphic designer Sheila Levrant de Bretteville. The contributions are wide-ranging, from original poetry, songs, and short stories, through book and exhibition reviews, to articles on sex, sport, self-publishing, and domestic life. Elissa Auther and Adam Lerner, eds, West of Centre: Art and the Counterculture Experiment in America, 1965-1977, 2011; Jenni Sorkin: "Second Life: Chrysalis Magazine", 31 October 2011, East of Borneo, available online.