---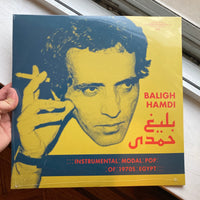 Hamdi, Baligh - Modal Instrumental Pop of 1970s Egypt LP
Modal Instrumental Pop of 1970s Egypt.

Sublime Frequencies, 2022.
Sublime Frequencies finally unleashes it's ESSENTIAL compilation
from 1970's Egypt. Modal instrumental tracks from Baligh Hamdi -
one of the most important Arabic composers of the 20th Century
(writing for legends Umm Kalthum, Abdel Halim Hafez, Sabah, Warda,
and many others). Features his legendary group the "Diamond Orchestra"
with Omar Khorshid on guitar, Magdi al-Husseini on organ, Samir Sourour on saxophone, and Faruq Salama on accordion. All of these musicians were
discovered and recruited by Hamdi to interpret his vision of a modernized,
hybrid Arabic music. Under Hamdi's direction, this orchestra charted
a new melodic direction and created a new musical language. This compilation
is culled from a specific era of Hamdi's long career, a decade where he
fully realized an international music which incorporated beat driven Eastern
tinged jazz, theremin draped orchestral noir, tracks that feature searing guitar solos from none other than Omar Khorshid, and a selection of buzzing, sitar
driven, Indo-Arabic tracks establishing a meeting of mid-east and eastern psychedelic exotica, and a vision that created some of the hippest music
coming out of the Middle East from the late 1960's and throughout the 1970's.
Includes extensive liner notes by Hisham Mayet with rare photographs.