---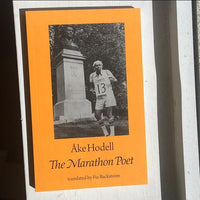 Hodell, Åke - The Marathon Poet
Åke Hodell. 
The Marathon Poet.
New York: Ugly Duckling Press, 2020. 
Softcover.
152 pages.
5.25 x 8.25".
Very good. 
Minor edge wear, primarily at top/ bottom of spine. 
Iconic poet-artist of the Swedish post-war avant-garde, Åke Hodell tells the story of his artistic journey through the absurd, satirical, tour-de-force that is The Marathon Poet, originally published in 1981 and now available for the first time in a facsimile-style English translation.
Hodell's book is centered around a fictional race between poets, in which our author-protagonist becomes the sole qualifier after some fitness and alcohol tests. The narrative of the race is intersected by apocryphal origin stories of Hodell's earlier works that freely blur fact and fiction, taking us even as far as Hell to find a publisher for one of his books. Through para-fictional devices, repetitive language techniques, phonetic writing, and satirical humor he continuously mocks authority. Hodell's tall tales unmask and satirize oppression's many guises—from disciplinary speed reading in elementary school to the forced repetition of a military command. In one chapter, Hodell relates the history of capitalism by way of a multi-vocal sound-poem featuring the voices of European and American automobiles. Through all the tribulations experienced by the marathon poet, Hodell's pacifist and anarchist politics are always present, always in solidarity, always in resistance.