---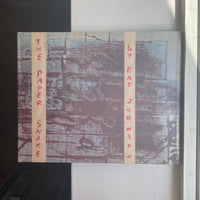 Johnson, Ray - The Paper Snake
Ray Johnson. 
The Paper Snake.

Siglio Press: 2014. 
Hardcover. 
48 pages. 
8.5"  x 10.75".

Long out of print (and coveted by Ray Johnson fans), The Paper Snake is an essential work in Johnson's oeuvre and the second title published by Dick Higgins's extraordinary Something Else Press in 1965. A vertiginous, mind-bending artist's book, The Paper Snake was far ahead of its time in its subversive and exuberant confluence of art and life. Assembled and designed by Higgins from his amassed collection of Johnson's letters, tid-bits and artworks (said Johnson: "all my writings, rubbings, plays, things that I had mailed to him or brought to him in cardboard boxes or shoved under his door, or left in his sink, or whatever, over a period of years"*), The Paper Snake connects disparate elements to unbed fixed relationships and forge new systems of meaning by means of scissors, paste and the American postal system.

An introductory essay by Frances F. L. Beatty, Director of the Ray Johnson Estate, is included as a separate insert, and in the spirit of the original, the print run is the same (1840 copies). This reprint is four-color offset, a different method than the original in which Higgins used a two-color process with innovative ink combinations.

About Ray Johnson

Almost twenty years after his death, Ray Johnson (1927-1995) continues to be revealed as one of the most quietly consequential figures in American contemporary art. An influential pioneer of Pop art, Conceptual art and Mail art (though he eschewed all of these monikers), Johnson's extrasensory perception and insatiable curiosity resulted in an immense body of work that spans collage, correspondence, performance, sculpture, drawing, painting and book arts. Johnson's work operates in a space of void, fragmentation and dispersion; from his early geometric abstract paintings to the collage and text work he called "moticos"; from the dancing black glyphs and morphing animal signatures to the later dense silhouette collages; from his writings, artist's books and correspondence art to the (non-) performances he called "Nothings." Fully charged with negative capability, Johnson's work in "nothingness" hinged on communication and relationships. His circle of friends, including Josef Albers, Ruth Asawa, George Brecht, John Cage, Christo, Chuck Close, Joseph Cornell, Albert M. Fine, Dick Higgins, Willem and Elaine de Kooning, Richard Lippold, Robert Motherwell, Ad Reinhardt, James Rosenquist, Cy Twombly and Andy Warhol, among others, reads like a Who's Who of 1950s-70's American art. Despite sharing major exhibitions between 1957-1978 (with the likes of Duchamp, Jasper Johns, Robert Rauschenberg, Allan Kaprow and Andy Warhol, among others) as well as having important solo shows at major galleries and museums (such as at The Whitney in 1970), Johnson systematically refused or flouted most opportunities to popularize his work through mainstream art commerce. On January 13, 1995 Johnson leapt from the Sag Harbor bridge in Long Island in an apparent suicide.