---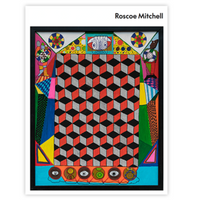 Mitchell, Roscoe - Keeper of the Code: Paintings 1963–2022
Roscoe Mitchell. 
Text by 
Roscoe Mitchell &
John Corbett.
Keeper of the Code: Paintings 1963–2022. 

Chicago: Corbett Vs Dempsey, 2023.
This catalog was produced on the occasion of the exhibition
Roscoe Mitchell
Keeper of the Code: Paintings 1963–2022
January 20–March 11, 2023
Corbett vs. Dempsey
2156 West Fulton Street
Chicago, IL 60612

Roscoe Mitchell (b. 1940) has been a leading figure in the performing arts for over 50 years.
Keeper of the Code
is the first solo exhibition to spotlight his work in the visual arts. Born and raised in Chicago, Mitchell formed the Roscoe Mitchell Art Ensemble in 1966, featuring Lester Bowie and Malachi Favors. Three years later, adding Joseph Jarman, upon their departure to Paris for a two-year sojourn the group transformed into the collective interdisciplinary troupe called the Art Ensemble of Chicago. By that time Mitchell had already recorded the first LP of music affiliated with the Association for the Advancement of Creative Musicians (AACM),
Sound
(Delmark, 1966), and he had joined forces with St. Louis trumpeter Bowie for
Numbers 1 & 2
(Nessa, 1967), which featured a painting by Mitchell on its cover. Indeed, Mitchell had been painting since 1963, and he continued on and off into the heyday of the Art Ensemble and through a hyperproductive sequence of decades of solo music, improvised encounters, and music for Mitchell-led ensembles. The pandemic afforded Mitchell time off-road in which he began painting very avidly again. This exhibition surveys his work from the most recent canvases—including a series of compositionally complex four-by-four foot works—all the way back to the beginning, when Mitchell was a promising young saxophonist and ambitious autodidact painter. A large selection of recent works, executed since 2018, includes the painting "The Code 3," its diamond-mosaic pattern surrounded by hip glyphic figures including the titular keeper. These delightfully playful, jubilantly colorful canvases sport various repeated motifs and themes—custodians of codes and keys, time keepers and ticket takers, figures known as "floaters" and "wavers," and another persona called "the watcher." Alongside these imagistic works, interpenetrating them as well, are all sorts of approaches to abstraction, from organic masses of circles that might recall Aboriginal art and warped checkerboards to more rigidly structured geometry and color sequences. In the gallery's north space, CvsD has gathered Mitchell's historical works dating back to 1963, including the cover painting from
Numbers 1 & 2
, and the riveting piece that graced the Art Ensemble's 1985 LP
The Third Decade
. In addition to the paintings, Mitchell is installing a new incarnation of his legendary percussion set-up known as "The Cage," which directly bridges the musical and visual in his capacious artistic imagination.