---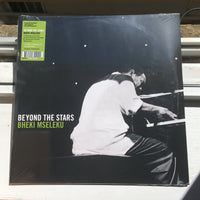 Mseleku, Bheki - Beyond The Stars 2x LP
Bheki Mseleku - Beyond The Stars.

London: Tapestry Works, 2021. 

An electrifying, previously unreleased studio album from the late South African genius of jazz, recorded in 2003
- The first new material by the artist to have emerged in nearly two decades
- Liner notes by Blue Note recording artist Nduduzo Makhathini, and by music educator and poet Eugene Skeef, producer of the original session
- Photographs by Siphiwe Mhlambi, Rashid Lombard and Cedric Nunn
- Fully licensed, 180g 3-sided double-vinyl edition of 500 copies, presented as the first release on Tapestry Works, plus digital release

'A divine summary of his life story' – Nduduzo Makhathini

Self-taught multi-instrumentalist and composer Bhekumuzi Hyacinth Mseleku (1955-2008), known as Bheki Mseleku, is widely considered to have been the most richly gifted South African jazz musician of his generation. Born in Durban, he moved to Johannesburg in the mid-1970s and played with groups including Spirits Rejoice, The Drive and Philip Tabane's Malombo. In 1980, he left apartheid South Africa for exile in Europe, travelling with his close friend Eugene Skeef. (A percussionist, educator, poet and former close comrade of Steve Biko, Skeef originally produced the Beyond The Stars session, and contributes liner notes to this release.)

Bheki spent six difficult years in Stockholm before moving to London. After a triumphant debut at Ronnie Scott's, in 1992 he would release his now classic debut album Celebration for World Circuit, before signing with Verve. He would go on to achieve worldwide recognition, recording and touring with jazz luminaries including Elvin Jones, Pharoah Sanders, Joe Henderson and Abbey Lincoln.

Throughout his life, Bheki struggled with both his physical and mental health. He was, as Eugene Skeef puts it, 'a conduit for the healing energy of music to flow into the world', a gift that came at a cost. At the start of the new century, Bheki returned to live in South Africa, but just a few years later he found himself in compound difficulties: life at home had proved too hard, and he was not well. He had also lost his imported Steinway upright piano in an unwise business deal and had not been able to play. In 2003, Skeef helped him return to London, where they hoped to realign his health and rekindle his career. Through his work with the London Philharmonic Orchestra, Skeef arranged for Bheki to have access to the Steinway concert grand pianos held at Henry Wood Hall. After Bheki had spent a few weeks recuperating, Skeef booked a studio session at Gateway Studios.

Beyond The Stars was the result: a stunning, solo piano suite which condenses Mseleku's visionary overstanding of South African music into a flowing, pulsing statement in six parts. With jazzwise echoes of marabi, amahubo, maskanda and Nguni song forms binding it to the deep music of Mseleku's Zulu heritage, Beyond The Stars provides what Blue Note recording artist Nduduzo Makhathini describes in his liner notes as 'a divine summary' of Bheki's life story: 'a sonic pilgrimage from the beautiful and organic landscapes of Durban, to the vibrant energy of London and ultimately toward the inner dimensions of one's being.'

But releasing the album proved impossible at the time, and so the session has remained unheard. Bheki sadly passed on in 2008, without having released a new album for five years; almost two decades have now passed since any new music by him has emerged. Working with Eugene Skeef, Tapestry Works is proud to break the silence with a first issue for Bheki Mseleku's visionary masterpiece, Beyond The Stars.