---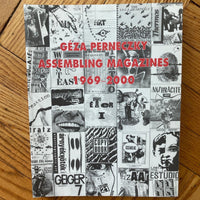 Perneczky, Geza - Assembling Magazines 1969-2000 (Signed)
Geza Perneczky.
Assembling Magazines
1969-2000.


Budapest: Arnyékkötök Foundation, 2007.
Softcover.
Edition of 500.

Signed, numbered and rubber stamped.

Essential reference book for both mail art
& specifically the history of Assembling Magazines.
Sections include :
1) Assemblings – The Terminology
2) Assemblings – The History
3) Assemblings – References (3 parts)
4) Assemblings publications 1969-2000 – Chronology
5) Assembling Documentation – Selected Text 1969-2000, 
this section includes texts by Omnibus Press who are seen to have created
the first Assemblings publication in 1969, "Ovum's Saga" by Clemente Padin, Kostelanetz "Why Assembling ?", "Short Story of My Editions" Edgardo
Antonio-Vigo, along with texts by Jeanie Black & Ely Raman,
Balint Szombathy, Sheila Holtz, Vittore Baroni "Arte Postale" editors statement,
and "five years", Steven Perkins, Halflife Network, Roberto Zito, Bill Gaglione,
Jean-Claude Gagnon et al.
All Perneczky texts in both Hungarian and English side by side –
last 2 sections in English. A worldwide authoritative publication
on this important art periodical genre.
Leopold Bloom, And Magazine, Ovum, Diagonal Cero, Geiger, Arte Postale
– just the tip of the Assembling magazine iceberg.