---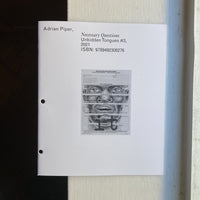 Piper, Adrian - Necessary Questions
Adrian Piper.
Necessary Questions.
Isabelle Sully (Editor).
Rotterdam: 
Unbidden Tongues
, 2021.
Staple-bound softcover.
44 pages. 

Minor creasing to back top left. 

Consisting of an internal report written by conceptual artist and philosopher Adrian Piper in 1998, Necessary Questions takes Wellesley College, Massachusetts—where she was then on staff—as a case study in institutional racism and neglect. As such, the report could be read simply as an administrative document, though one drenched in meticulously clear advice that could still be, despite being written twenty-three years ago, taken up on a glaringly universal level. Yet the role the report went on to play in Piper's life proves it's not just a context-specific document, but an all-too-real example of exactly what it stood against: the ways in which the langue of protocol and the false façade of civility are utilised as tactics to ensure that one stays in their place.

It is the third title from Unbidden Tongues, a series edited by Isabelle Sully that focuses on previously produced yet relatively uncirculated work by cultural practitioners busy with questions surrounding civility and civic life—particularly so in relation to language.