---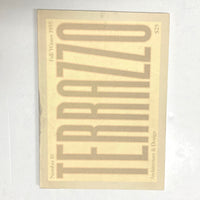 Radice, Barbara (Editor) - Terrazzo 10
Barbara Radice (Editor).
Terrazzo #10. 

Milano: 
Terrazzo
srl, 1995. 
Softcover.
132 pages. 
Very Good. 

Minor edgewear and soiling to covers. 
Small ding to top middle front cover. 
Paperclip indentation top middle first page.
Unobtrusive, still a presentable and enjoyable
copy of the scarce final issue of this important magazine. 
TERRAZZO was a very special biannual publication
on architecture and design, edited and published
between 1988–1995 by Barbara Radice, a prominent
Italian author, design critic and member of the
Memphis Milano design group. In conjunction with
Ettore Sottsass, Christoph Radl, Anna Wagner and
Santi Caleca, Radice created a unique and thoughtful
periodical that focused on contemporary works of
design and architecture, within Italy and abroad, touching
on a vast array of disciplines in each issue, including literature,
poetry, history, science, philosophy, art and anthropology.

Features

Editors Note by Barbara Radice.
Aesthetics by Aldo G. Gargani.

Phenomenology of Floors 

Mediterranean Pasta: Six Recipes 
Photographs by Santi Caleca.

Travel Notes on Fujian's Round Houses

Very Ancient China:
Universe, Geometry, Numbers, Architecture.


Development and Reduction 

by Andrea Branzi
.

Luoghi
by Milco Carboni. 


Plans (9)
Research by Beppe Caturegli and Giovannella Formica.