---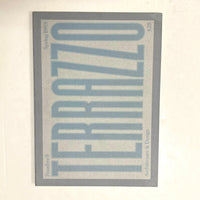 Radice, Barbara (Editor) - Terrazzo 9
Barbara Radice (Editor).
Terrazzo #9. 

Milano: 
Terrazzo
srl, 1993. 
Softcover.
124 pages. 
Very good.
Minor edgewear to covers. 

Nice copy of the scarce ninth issue of Terrazzo.

TERRAZZO was a very special biannual publication
on architecture and design, edited and published
between 1988–1995 by Barbara Radice, a prominent
Italian author, design critic and member of the
Memphis Milano design group. In conjunction with
Ettore Sottsass, Christoph Radl, Anna Wagner and
Santi Caleca, Radice created a unique and thoughtful
periodical that focused on contemporary works of
design and architecture, within Italy and abroad, touching
on a vast array of disciplines in each issue, including literature,
poetry, history, science, philosophy, art and anthropology.

Features

Editors Note by Barbara Radice.

Europe: Siemens on Technology
Interview with Julius Lengert.
Photographs by Santi Caleca.

The Disappearence of Objects

Europe on Technology:
Photographs by Santi Caleca.

Japan on Technology:

USA on Technology:

El Futuro Che Viene: 
On Technology
by Xavier Mariscal.

Citizen Office: A Project for Vitra - 
Ideas and Notes by 
Andrea Branzi, Michele Di Lucchi,
Ettore Sottsass.
Diagrams and Coordination by James Irvine. 
Photographs by Santi Caleca.

Plans (8)
Research by Beppe Caturegli and Giovannella Formica.
Photographs by Christina Bischofberger.