---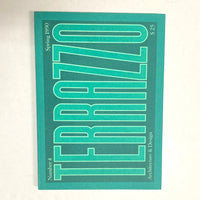 Radice, Barbara (Editor) - Terrazzo 4
Barbara Radice (Editor).
Terrazzo 4. 

Milano: 
Terrazzo
srl, 1990. 
Softcover.
168 pages. 
Very good. 
Minor edgewear to covers.
Binding square, strong and tight.

Nice copy of the scarce fourth issue of Terrazzo.

TERRAZZO was a very special biannual publication
on architecture and design, edited and published
between 1988–1995 by Barbara Radice, a prominent
Italian author, design critic and member of the
Memphis Milano design group. In conjunction with
Ettore Sottsass, Christoph Radl, Anna Wagner and
Santi Caleca, Radice created a unique and thoughtful
periodical that focused on contemporary works of
design and architecture, within Italy and abroad, touching
on a vast array of disciplines in each issue, including literature,
poetry, history, science, philosophy, art and anthropology.

Features

Editors Note by Barbara Radice.

Colors: research by Viola Marquez and Gail Wittwer.
Large, Medium and Small Size Private Houses
by Ettore Sottsass, 
photographs by Santi Caleca.
Letter by Aldo Rossi.
Travel Notes: On Architectural Drawings by Ettore Sottsass.
Cities and Town by Helmut Newton.

Tombstone: Four Pieces and Coda on the Idea of Burial
by Francesco Pellizzi.
Craig Hodgett's Ming Fung You Send Me by
Herbert Muschamp.

Carlos Jimenez interviewed by Viola Marquez.

C.A.D. by David Kelley.

Very Rare and Important by B.J. Archer.

Plans (4) A Baroque Story by Luigi Serafini.
research by Beppe Caturegli and Giovannella Formica.
Massimo Giacon Frescos 1988-189 by Ambrogio Borsani. 
photographs by Santi Caleca.