---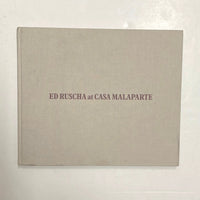 Ruscha, Ed - at Casa Malaparte exhibition catalog
Ed Ruscha.
at Casa Malaparte exhibition catalog.
New York: Gagosian, 2019
.
Hardcover without dust jacket as issued. 
76 pages. 

10" x 12".
Very good. 
Minor wear and bumping to covers. 
Light soiling to covers as well
including a fairly unobtrusive stain front bottom middle. 

Handsome reading copy of this scarce exhibition catalog. 

This book was published on the occasion of Ed Ruscha at Casa Malaparte, a one-night only exhibition in July 2019 at Casa Malaparte, the famous house built by author and publisher Curzio Malaparte on the Italian island of Capri. Ruscha's paintings and prints on canvas, paper, and vellum feature trompe l'oeil depictions of wooden slats in highly graphic compositions. Conveying the materiality and grain of the planks, these works investigate the effects of light, time, and structure.

The book reproduces all of the paintings and prints in the exhibition, together with installation views that document the interplay between Ruscha's works and the site's unique architecture and furnishings. An essay by art historian Mario Codognato contextualizes this body of work, which is further illuminated by a conversation between the artist and Glenn Fuhrman, collector and founder of the FLAG Art Foundation, New York.