---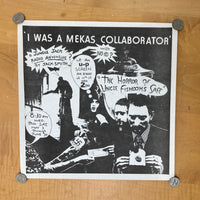 Smith, Jack; Mekas, Jonas - I was a Mekas Collaborator: A Jungle Jack Radio Adventure? By Jack Smith poster
I was a Mekas Collaborator:
A Jungle Jack Radio Adventure? By Jack Smith
.

New York: Jack Smith, 1978.

Near fine. 
Jack Smith and Jonas Mekas, once friends through the emerging worlds of experimental performance and film, had a falling out in the aftermath of the release and subsequent legal prosecution of Smith's film Flaming Creatures, deemed to be in violation of New York's obscenity laws. Smith later accused Mekas of stealing copies of Flaming Creatures for Anthology Film Archives.

This performance references this arc of Smith and Mekas' relationship. Smith's 1978 performance I was a Mekas Collaborator: A Jungle Jack Radio Adventure? changed from night to night; in one iteration, Smith sits out of site and plays Jungle Jack Radio Adventures, followed by a screening of someone else's film. In a review of the performance in the Village Voice, J. Hoberman noted that Smith's use of radio may represent "the unfulfilled promise of two-way communication."