---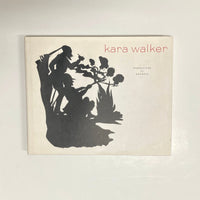 Walker, Kara - Narratives of a Negress (Second Edition)
Kara Walker. 
Narratives of a Negress,
Second Edition. 

New York: Rizzoli, 2007. 
Hardcover. 
208 pages.

Very good. 
Dust jacket has small circular closed tear front bottom right 
and unobtrusive staining at top left of front flap. 
Neat, clean nice copy. 

Kara Walker (b. 1969) has emerged as one of her generation's most important artists. Best known for her provocative black paper cutout silhouettes, she confronts stereotypes, sex, violence, and power relationships through Civil War-era parodies, narratives, and a mastery of craft and installation.

This book, which accompanies an exhibition organized by the Tang Teaching Museum and Art Gallery at Skidmore College and the Williams College Museum of Art, presents a comprehensive overview of Walker's work, beginning with her first cut-paper wall installation,
Gone, An Historical Romance of a Civil War as It Occurred between the Dusky Thighs of One Young Negress and Her Heart
(1994). Other highlights include the 1996 series of twenty-four watercolor drawings,
Brown Follies
, which is reproduced in full as an artist's book within the book, and installation views of many of Walker's exhibitions. Recent drawings and projections are also featured. Throughout the book are a selection of the Walker's writings reproduced as they were created typed on index cards. These writings reveal a rarely seen side of the artist, whose words are as provocative as her installations and drawings. The essays discuss Walker's place in art history, formal and narrative readings of her work, her relation to culture at large, and issues of race, sexuality, and representation addressed in her work.

Copublished with the Tang Teaching Museum and Art Gallery at Skidmore College and Williams College Museum of Art.