---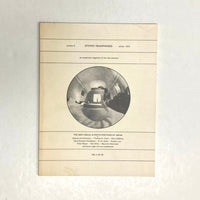 Zurbrugg, Nicholas (editor) - Stereo Headphones Vol. 1 No. 5 Winter 1972
Nicholas 
Zurbrugg (editor).
Stereo Headphones:
An 
Occasional
 Magazine of the New Poetries
Vol. 1 No. 5 Winter 1972.
Kersey: Stereo Headphones, 1972
.
52 pages.


Very good.
Minor edgewear and soiling to covers.
Light creasing with a harder crease top right.
Back right at spine toned.  

Fifth issue of legendary concrete poetry mag Stereo Headphones 
edited by Nicholas Zurbrugg and featuring an international cross section 
of the then new poetries. This issue with a focus on
"The New Visual + Photo Poetries of Japan". 

Featuring Tokyo Manifesto for the Spatialism: 1968 by Seiichi Niikuni + A Note on Visual Poem (1966) by Kitasono Katie as well as concrete poetry, etc by Niikuni, Yutaka Iishi, Shoji Yoshizawa, Katue, Takeshi Koike, Shimizu Toshihiko, Ito Motoyuki,
Okazaki Katsuhiko, Tsuji Setsuko.

The Great Advance Backwards: From Dada to Concrete to Dada via The New Poetries of Japan by Nicholas Zurbrugg. 

Some Myths of Concrete Poetry by Bob Cobbing & Peter Mayer. 

Supertonic Boom or Babbling as Art Form by Dom Sylvester Houédard.

Concrete Poetry, Sound Poems, etc by Charles Amirkhanian, Thomas A. Clark, Bob Cobbing, Ernst Jandl, Robert Lax, Neil Mills, Maurizio Nannucci 
and a seven page reviews supplement.