---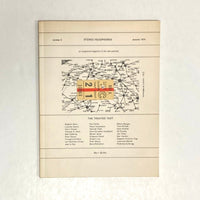 Zurbrugg, Nicholas (editor) - Stereo Headphones Vol. 1 No. 6 Summer 1974
Nicholas 
Zurbrugg (editor).
Stereo Headphones:
An 
Occasional
 Magazine of the New Poetries
Vol. 1 No. 6 Summer 1974.
Kersey: Stereo Headphones, 1974
.
72 pages.


Very good.
Minor edgewear and toning. 

Sixth issue of legendary concrete poetry mag Stereo Headphones 
edited by Nicholas Zurbrugg and featuring an international cross section 
of the then new poetries.

Contributions by Ed Ruscha, Edgardo Antonio Vigo, Lawrence Weiner, Stephen Bann,
Lourdes Castro, Henri Chopin, Thomas A. Clark, Bob Cobbing, Peter Deinst,
François Dufréne, Ian Hamilton Finlay, Jean le Gac, Paul Gette, Raoul Hausmann,
Hannah Höch, Dom Sylvester Houédard, Marcel Janco, Kitasono Katué, Robert Lax, 
Peter Mayer, Barry McCallion, Edwin Morgan, Tom Phillips, Hans Richter, Joe Tilson, 
Ben Vautier and Nicholas Zurbrugg. 

Tanks Banks by Ed Ruscha. 

A hand colored Air / Oar by Barry McCallion. 

"Gerard Vargas kindly collected metro tickets for the cover collage."

Two Pastoral Scenes by by Thomas A. Clark.